What is a Super Tuner?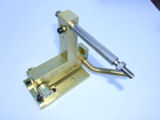 The Medicine Stone Super Tuner is simply the finest bow vise made for adjusting an archer's bow to perfection. No one has come close to matching this quality product in the archery industry. The first prototype was built in 1995 and has been perfected into a precision instrument. If you are serious about accuracy in your archery equipment, then take the time to read the history and description of the Super Tuner. You owe it to yourself to use what the best pro shops use to tune their customers equipment.
Our Beginning:
In 1988 Jim Hansell and I developed our first target archery sight and introduced ourselves to the world at the World Archery Festival in Las Vegas Nevada early in 1989 as Hansell Sights. The original sight was based on a preset dead-stop turret principle that worked great but was a little intimidating to archers who were just not ready for radical change. As a result we introduced the Medicine Stone Accurate in 1991 that while a little less radical was still as different as night and day from what was being manufactured at the time. In the hands of some of the finest archers in the world the Accurate has been used to set and tie a number of world records. We still manufacture this sight on a custom order basis. At that first Las Vegas shoot in 1989 we introduced another product that sent us down another path...one that we are still travelling today... set up equipment. We introduced the String Level a level that attaches to the bow string and is the start of a perfectly set up bow. It shows the only true vertical on the bow and allows you to transfer that forward to your bar sight so that these can be set perfectly parallel...an absolute must in your setup if you are going to be accurate at both the close yardages as well as the long yardages. More...
How do you use it?
Let me begin by saying that the Super Tuner is not difficult to master. More...