1 - The Super Tuner Just Out Of The Box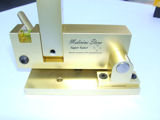 The Super Tuner is a precision built tool. In the Tool Makers trade the rule is that tooling should be at least ten times more accurate than the part being made, inspected or adjusted. We have built the Super Tuner with this high standard in mind. Back...
2 - Two Basic Components In The Super Tuner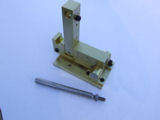 The Super Tuner is a gold anodized aluminum bow vise and a stainless steel shaft that screws into the stabilizer hole in your bow riser. Back...
3 - All The Components Needed For Bow Tuning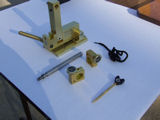 Shown here is the Super Tuner with the SS shaft, (2) String Levels, and the Center Shot Arrow Level. Having two String Levels is optional, but I like using two. You will see two String Levels used in the tuning procedures here. Back...