1 - The Super Tuner Has Two Mounting Holes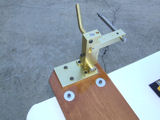 Here the Super Tuner is shown with the top section angled back at approximately 90 degrees to provide a clear view of the two mounting screws. Back...
2 - The Properly Mounted Super Tuner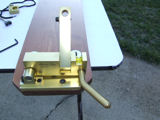 In this view, the Super Tuner is shown in the normal position with the sight glass indicating that it has been properly leveled. Note that the mounting board has been bolted to a folding table, but many will mount the Super Tuner onto a 2 X 4 and clamp it to any convenient location, such as a picnic table or truck bumper. Using the 2 X 4 mount you can use the Super Tuner at home or in the field. Back...